One of the best and most simple techniques for taking a picture that wows is to
FILL THE FRAME
of your viewfinder with your point(s) of interest. Doing this will draw the eye straight to the subject, creating a more intimate feeling, and eliminate all that distracting background clutter.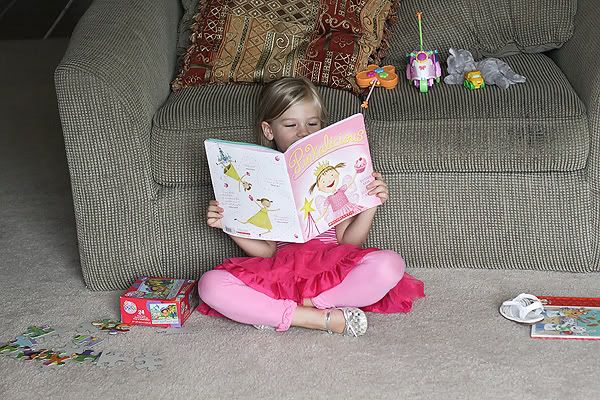 Now wait a minute ... before you put your camera's zoom to work, put your feet to work! Depending on your camera's lens and zoom capabilities, zooming in simply enlarges your image and crops it to fit your frame, which can sometimes result in a grainy picture. If you actually move in closer to your subject, your picture will have much more detail and wow factor.
This is Avery's favorite book, so what I really wanted to capture was her reading it, totally intent on the story, while highlighting the title at the same time. I definitely did NOT want you to see the mess around her!
If you've had a photo session with me recently, you may notice that I don't have one of those super, big, long, heavy, crazy telephoto lenses. You may have also noticed that I move back and forth ... a lot! That's because my favorite lenses are called prime lenses, and they only have one focal length - no zoom. So I have to zoom with my own body. I love shooting this way because of the intimate impact I can create.
Here's another example of how you can create that intimate impact I was talking about. Say I don't really care about the book she's reading, but I just love her sweet face and those long eyelashes. Well, you know what to do ... fill the frame!
So, think about what you want to capture. Focus in on just that. Rock it!!!
I would LOVE, LOVE, LOVE to hear what you think, and/or see examples of your tries at filling the frame!! So leave me a note either here or on
Facebook
. Good luck!